PingPlotter Beta Testing
Want to shape the future of PingPlotter? Interested in trying out awesome new tools before they go live? Beta builds give you a chance to experience the shiniest, newest features while helping us create the best PingPlotter possible.
Bug Fix
We have issued an important bug fix for PingPlotter versions 5.5.11 - 5.5.13. This fix resolves an issue where users were unable to use PingPlotter, as it assumed the program was an expired beta build. Please use this link to download the latest version immediately. If you have any questions, contact PingPlotter Support, and we will get in touch as soon as possible.
How it Works
PingPlotter beta builds are exclusive to Standard and Professional license-holders with active maintenance. To participate, simply download and install the beta from your account page. When you launch the beta, you'll be prompted to enter your PingPlotter account info. Once you've logged in, you'll be all set to test your awesome new traceroute superpowers!
Activating maintenance
PingPlotter betas require active maintenance. If you're unsure of your status or would like to activate maintenance for your account, visit your account page. We'll keep the beta warm until you get back.
Sharing Feedback
Hearing how the beta works for you helps us build a better PingPlotter. Please check for known issues in the Release Notes, and share whatever feedback comes to mind during your testing.
Flexible Data Storage & Final Hop Only
Version 5.7.3
Flexible Storage adjusts the way PingPlotter manages data to improve load times and give you more control over what data you keep and what you throw away. You can learn more about Flex Storage by checking out this article.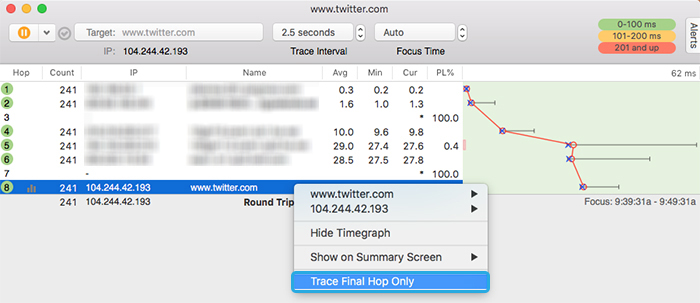 Final Hop Only limits tests to target destinations. The new mode provides an easy way to decrease CPU usage which is useful in situations where you are testing a high number of targets at the same time. Alert actions for toggling final hop and full route are also available to help automate troubleshooting workflows. To learn more, check out this article.
Flex Storage Beta
Released 2018-08-20 (Windows & macOS)
Remote Network Troubleshooting
What's better than one beta? Two!
In order to test the latest round of new PingPlotter features, we are creating two separate beta builds. This lets you test the features you're most interested in without worrying about unnecessary variables (how scientific!).
To download the version that strikes your fancy, visit your account page and select the build of your choice. Or download them both! If you're unsure which version is right for you, see below to learn more about the new features in each build.
Version 5.6.5
Deploy and configure network traceroute monitors for any computer without ever leaving your desk. CloudConnect allows you to install and calibrate remote agents with a simple activation link — you'll never need to worry about walking clients through firewall settings. Agent data is stored to the cloud, so every second of traceroute info is safe if you lose connection.
You can discover more about CloudConnect here, or learn how to deploy agents in our Getting Started guide.
Important!
You can only have one beta version running at a time. If you wish to install a different PingPlotter version, this will overwrite your previous build.
CloudConnect Beta
Version 5.6.5 (5.5.13 with CloudConnect)
Released 2018-07-17 (Windows)
Beta End Date: 2019-01-07