Stay on Top of Trouble with PingPlotter Alerts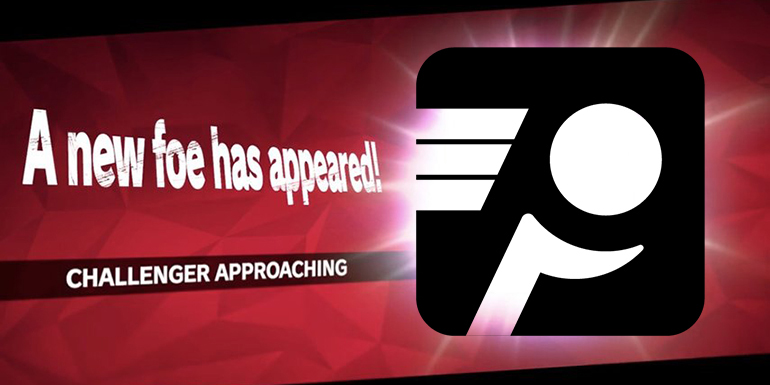 ---
Automated alerts are a huge part of PingPlotter, and our newest release makes them even more useful.
Missing out sucks.
And while it's a bummer when you find out your friends went on an awesome road trip while you were at home telling jokes to your Roomba, it's even worse when you miss a critical piece of info that could have made your life a little easier.
This is why PingPlotter built its alert system — so the critical moments when network issues strike never slip by. With PingPlotter's latest update, we've expanded alerts to help you do more when it matters most.
Alerts? What are those?
If you're relatively new to PingPlotter, you may not have had a chance to use its expansive alert system. Alerts are automated actions PingPlotter can take when conditions like high latency or extended packet loss impact your network. As you can imagine, alerts are a huge help whether you're troubleshooting an issue or monitoring performance.
To set up or manage your alerts, click the Alerts tab on the right side of the Target Bar: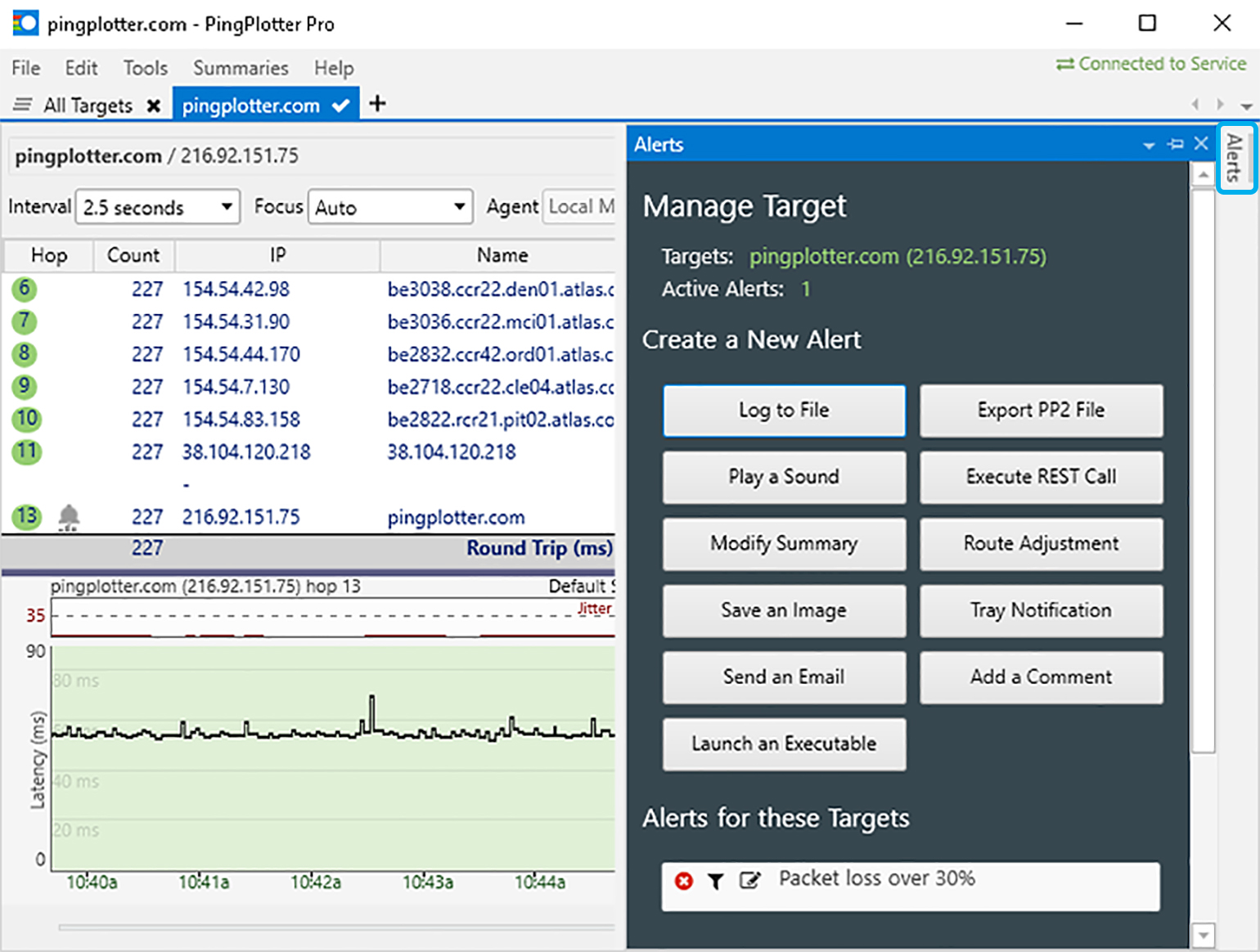 Here, you'll find a list of alert actions you can set up, any existing alerts for your current trace, and a library of all the alerts you've created in the past.
Each alert has two parts: an Action and a Condition. To make a new alert, select the base action you want to use. For example, we're going to use one of the new actions released in this update: Export PP2 File . This will save our trace data every time our set condition is met.
Next, we'll set the condition for our alert. In the first dropdown, you'll see a list of conditions. For our example, we're also going to use a new alert condition from this release: Alert on a Timer . This will cause our alert action to trigger on set intervals, allowing us to export regular backups of our test data.
After that, you can set the specific details of your action and test the alert to make sure it's working the way you like.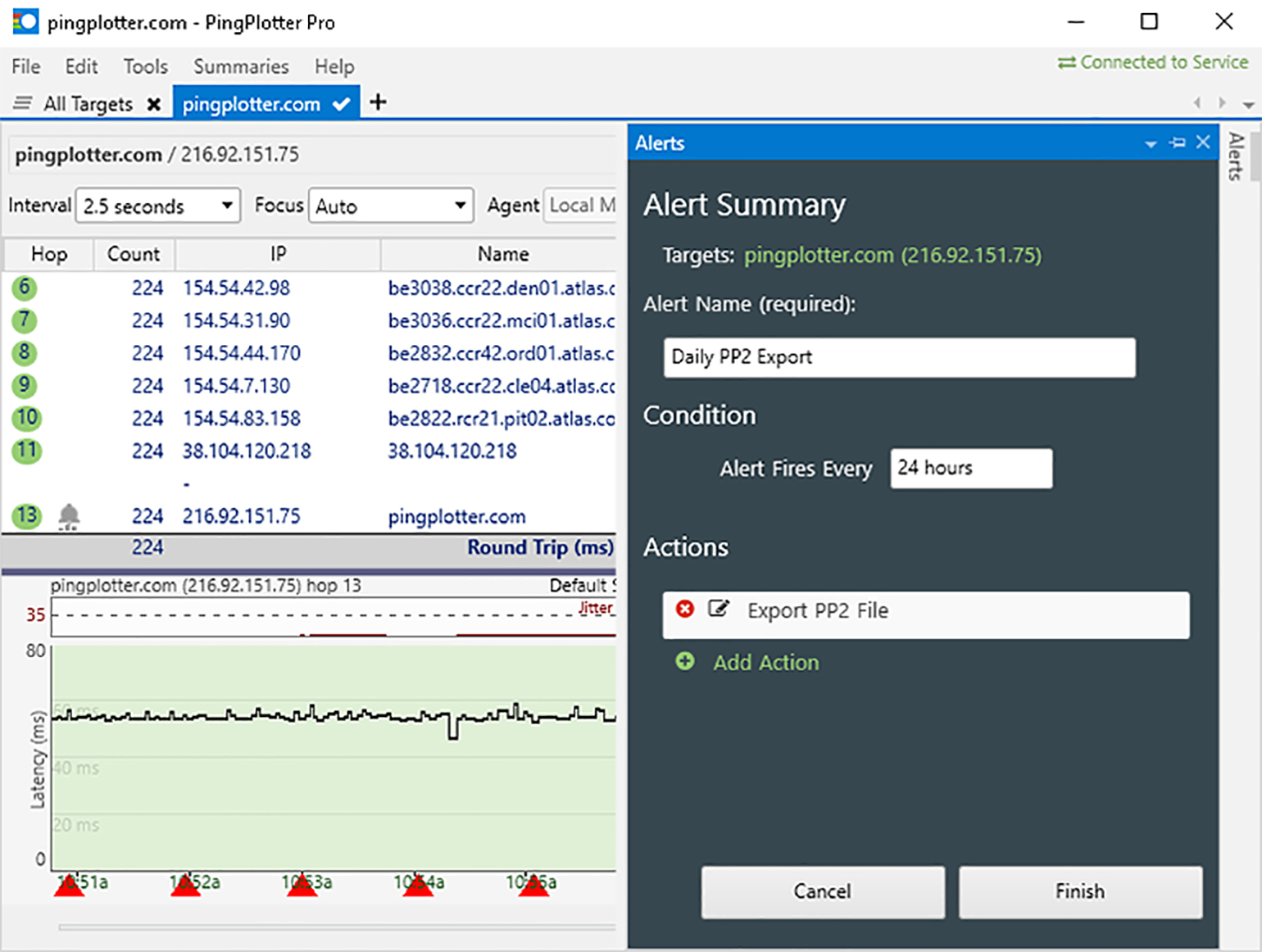 Finally, you can name the alert (so you can find it in the Alert Library) and add additional conditions to create the perfect automated response.
This is just the start of what you can do with PingPlotter's alert system. If you're looking to take a deeper dive, we have more alert details in our manual.
More options when you need them
PingPlotter's latest release brings more flexibility to your alerts. In addition to exporting PingPlotter trace data and triggering alerts at regular intervals, there are several new options to help automate your monitoring and troubleshooting work.
We've now added the option to save a screenshot of your PingPlotter data when an alert triggers. With the Save Image action, you can choose to capture your Trace Graph and Timeline Graph at the image size you set while choosing just how much data you want to show.
This makes building a case for your ISP or service client as simple as setting a condition, starting a trace, and letting PingPlotter snap a picture of your proof.
When you're monitoring a route for extended periods, it's important to keep track of major events. By creating an Add Comment alert action, PingPlotter will add a comment to any Timeline Graph as part of your alerts. Like a normal comment, it sticks with the graph when you export or share your PingPlotter data.
Automated comments add an extra layer of communication when working with tech support or collaborating with a team. Instead of needing to scrub through Timeline Graphs to find the right sections or point out anomalies, PingPlotter does it for you.
Be on alert
For every type of troubleshooter, PingPlotter alerts can take a lot of stress off your shoulders. Instead of hovering endlessly over a screen waiting for something to happen, you can create a suite of custom alerts to keep you informed and automatically take action.
If it's been a while since you last updated, active maintenance is the best way to experience not just the new alerts and improvements, but everything we've added to make PingPlotter the trustiest tool on your belt. Things like:
To activate maintenance, simply log into your account to get started. With a few simple clicks, you'll be ready to experience PingPlotter's latest and greatest, as well as every new development just around the corner. It's the best way to make sure you never miss out.
---
Do you support remote workers?
When remote workforces have connection trouble PingPlotter Cloud helps you find the problem and get everyone back online fast.
Start a Trial