Up your accuracy with the latest PingPlotter update
---
How accurate is accurate? PingPlotter version 5.19 shows you details you may not have even known you could see.
If there's one thing PingPlotter can always hang its hat on, it's the quality of its data. When you need proof of a problem to show your boss or your ISP, it needs to be accurate and it needs to be precise. Otherwise, you might as well be troubleshooting your network with tea leaves or chicken bones.
Actionable results are accurate, and PingPlotter's latest release pushes its precision even further.
In PingPlotter 5.19, we've dug deep under the hood to improve our packet generator and ensure the numbers PingPlotter tells you are the absolute best they can be. And when we say accurate, we're talking about sub-millisecond levels of detail.
Of course, that's not all. PingPlotter's latest adds a number of fantastic interface updates for the web and quite a few quality-of-life improvements for every edition.
There's a lot to share, so download that PingPlotter update and let's go!
Unity. Precision. Perfection.
One of the biggest updates in PingPlotter 5.19 is the significant upgrade we've made to PingPlotter's packet generator.
We recently discovered a very curious quirk in how the Windows versions of PingPlotter would respond after extended periods of rapid network testing. In instances where PingPlotter had been testing the same connection for several days straight without interruption, we observed that ping times less than 1 ms would slowly start to round up to 1.
The reason why is a bit complex, but it had to do with how PingPlotter's packet engine uses Windows to ping things. Since it was ultimately a Windows issue, we needed to take matters into our own hands.
In response, we made the most significant revision to PingPlotter's packet engine in years. It's a lean, mean pinging machine that doesn't compromise on speed or finesse. You can be even more confident that the results you see are accurate and actionable. This is also a significant boon for those using PingPlotter to monitor internal devices (like with IoT), where you're most likely to see sub-millisecond latencies over extended periods of testing.
No matter the edition of PingPlotter you choose, the new engine will be humming under the hood — this includes Cloud Agents. Download the latest update and show us how fast your network can be.
A better way to view Agents
Among the best parts of PingPlotter Cloud is the ability to deploy unlimited remote agents to as many devices as you need. However, it doesn't take long before all the different network tests begin to blur together. How do you keep everything nice and tidy? There has to be a better way!
Now there is!
Agent-based summaries help you stay organized while speeding up your workflow. Each Agent now has its own summary screen, allowing you to quickly find and view the status of a specific device.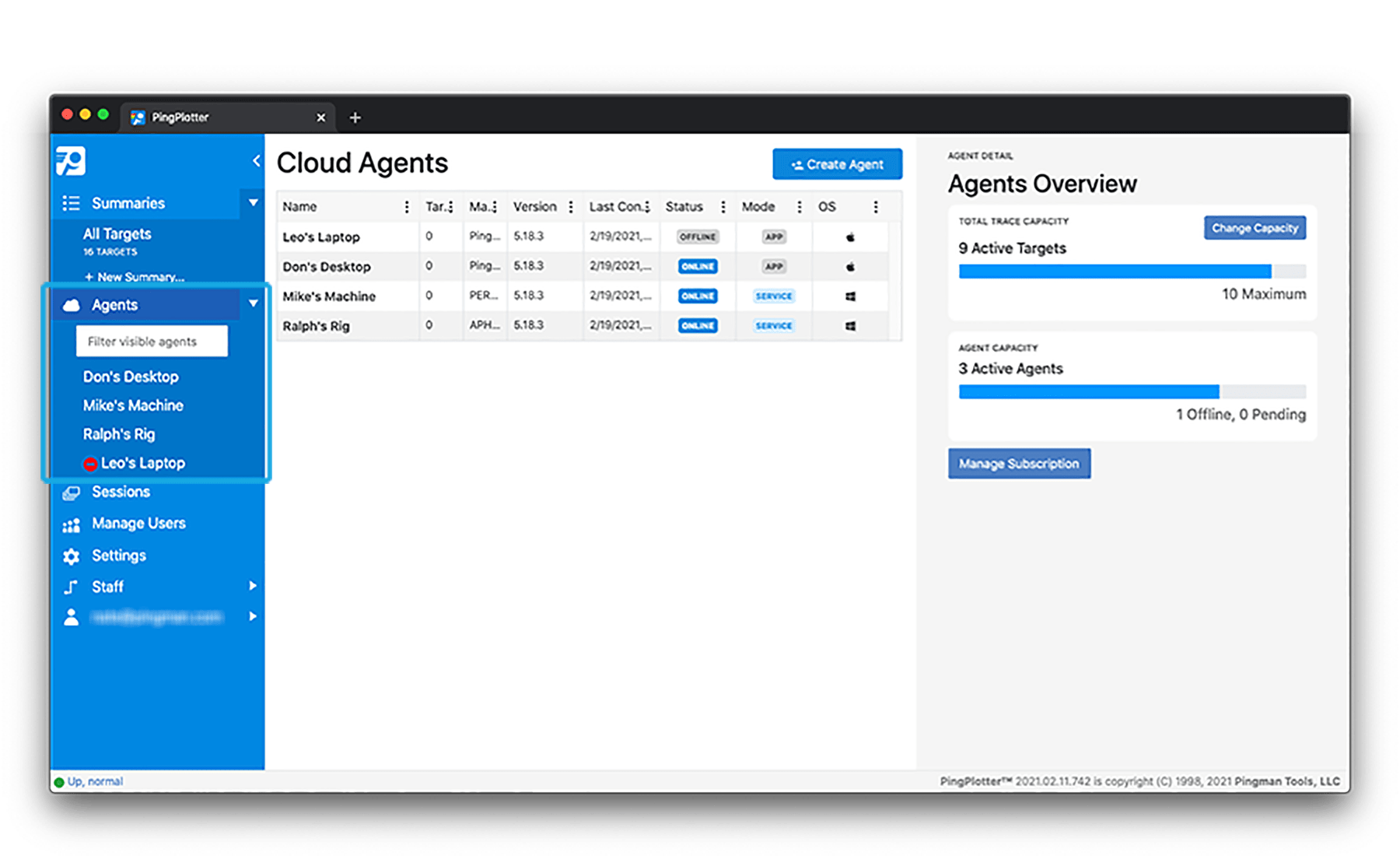 The Agents tab now has a dropdown list of every Agent you've deployed. Clicking on the Agent name will bring up a summary of their current and previous traces. Once you have a few Agents deployed, you will also be able to filter Agents by name through a search field.
Since we've added dedicated Agent summaries, we've also created Agent LiveShare links! Linking an Agent summary will give anyone you choose a dynamic page with everything going on with a specific device. You no longer need to manually update summaries for users interested in their connection status.
All in all, Agent summaries make it a ton easier to find and share trace data. For deployments with 100+ Agents, it's a life-saver. For those with more modest Agent counts, it's still a fantastic way to stay organized.
Leave us a comment
One of the best collaborative features of PingPlotter has made its way to the web: comments!
Just like in the PingPlotter app, you can add a text comment to any Timeline Graph in the web UI. Simply right-click on the desired location on any timeline and select Create comment… .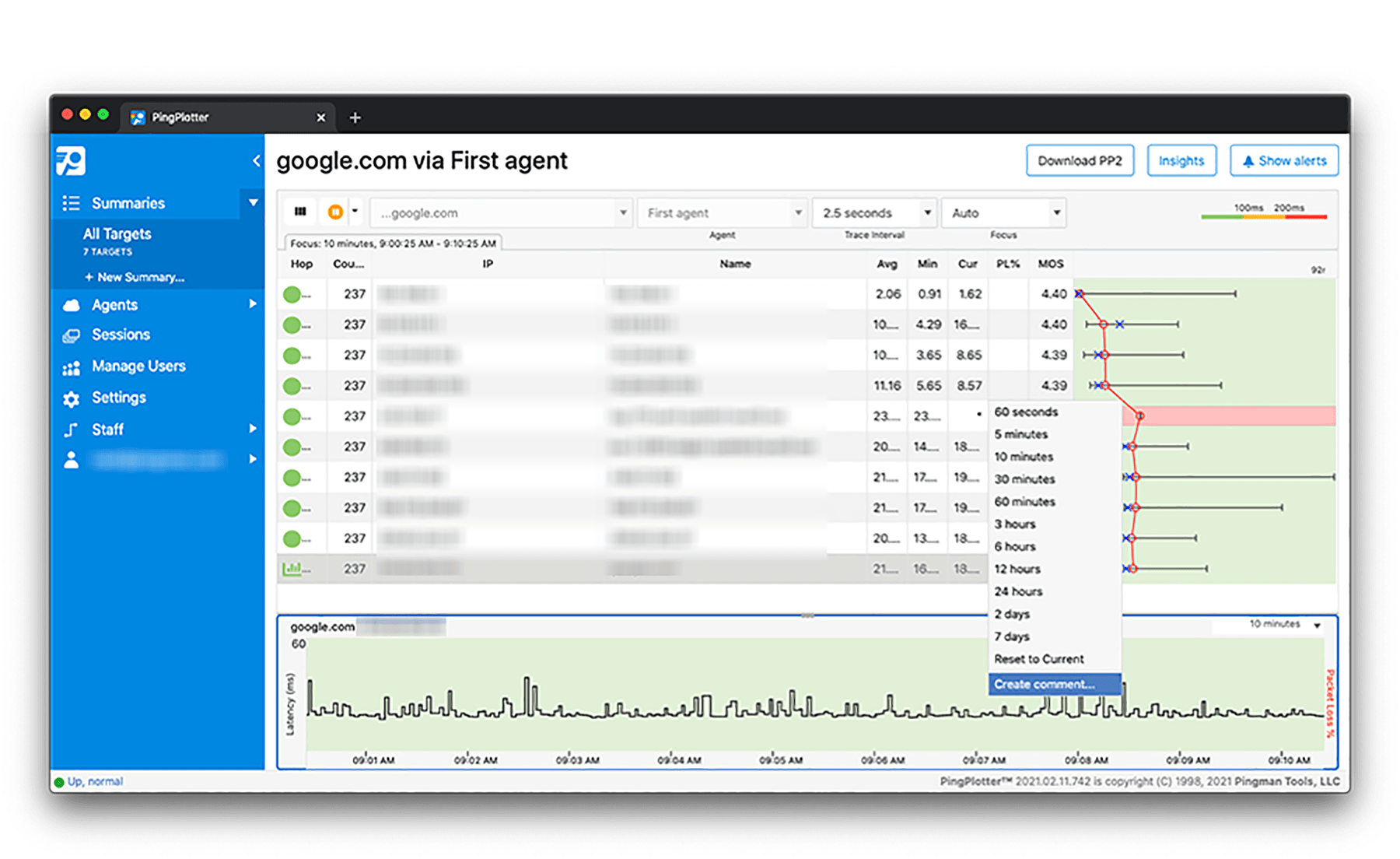 From there, you'll be able to dial in the timestamp and add your comment text. Just like in the PingPlotter app, your comment will appear on the timeline as a red arrow.
The comments feature is invaluable for IT teams. Comments made by one user are visible to all users with Trace Management permissions, helping everyone stay up-to-date on outages, updates, and important events.
The addition of comments also means you can now set comment alert actions in the web UI. Whenever conditions are met, PingPlotter will add comments to a Timeline Graph to help you find critical events or share information with colleagues.
Comments are an important part of PingPlotter, and they're even more useful in the web UI. As you start collaborating using comments, let us know what you think! We have a lot of ideas for new and better ways to foster collaboration, but we'd love to hear what you'd like to see.
May your packets fly true
We've done a lot of awesome work in PingPlotter's latest release to improve the experience for every type of user. Whether you're an enterprise IT admin or someone trying to fix their home network, you can now ping with even greater confidence.
You can download the latest update on our download page, from your account page, or from inside PingPlotter itself!
As you use the latest version, let us know what you think! We have so many fantastic things in the works, but nothing is more important to us than making the tool you need to solve tough problems.
---
Do you support remote workers?
When remote workforces have connection trouble PingPlotter Cloud helps you find the problem and get everyone back online fast.
Start a Trial