Introducing PingPlotter Cloud
---
The most ambitious PingPlotter yet is here! Here's everything you need to know.
It isn't every day that a new PingPlotter edition makes its way out into the world, but today is one of those days.
Today, we are excited to present our latest release: PingPlotter Cloud .
PingPlotter Cloud helps you gather evidence of network issues from anywhere in the world. It monitors the network path between a device and any destination you set. PingPlotter traces every hop along the route, allowing you to pinpoint the area where the connection failed.
Whether you're helping remote employees with their connection or monitoring client networks spread across the globe, PingPlotter Cloud makes it faster, easier, and more affordable.
What is PingPlotter Cloud?
At its core, PingPlotter Cloud is a network testing and monitoring tool that gives you visibility into a network connection from the device's point of view.
Neat! But...what does that mean for me?
Here's an example. Right now, if Roy from accounting is upset because he thinks the VPN your company uses for home employees is messing up Zoom calls, you don't really have a great way of proving if he's right or wrong.
With PingPlotter Cloud, you can visualize the route Roy's network data takes to Zoom, to Google's DNS, or any other internal or external address in real-time. You can see where problems like high packet loss or jitter impact Roy's connection and show evidence of the root cause.
How do we do it? Cloud uses lightweight software-based agents deployed on the Windows and macOS devices you manage. These agents communicate with a cloud server to collect the network test data and present it in an easy-to-read interface.
What this means for you and your team is simple: With PingPlotter Cloud, you can quickly and easily see when and where network issues appear for the people and devices you support.
What makes PingPlotter Cloud different?
Cloud is more than a simple extension of PingPlotter Pro or even our previous remote network monitor, CloudConnect.
PingPlotter Cloud is an independent, fully-contained network monitoring platform that provides a better experience than traditional remote monitoring or management suites. This means:
Easier setup
Initial deployment is one of the biggest hurdles in implementing a new solution. Cloud changes that completely with a same-day rollout that gets you started within hours (or even minutes).
Getting started is a snap. When you open your Cloud account, we create a unique cloud-based hub for you immediately. Deploying agents is as simple as sending a custom download link to your users or mass-deploying with your app manager of choice.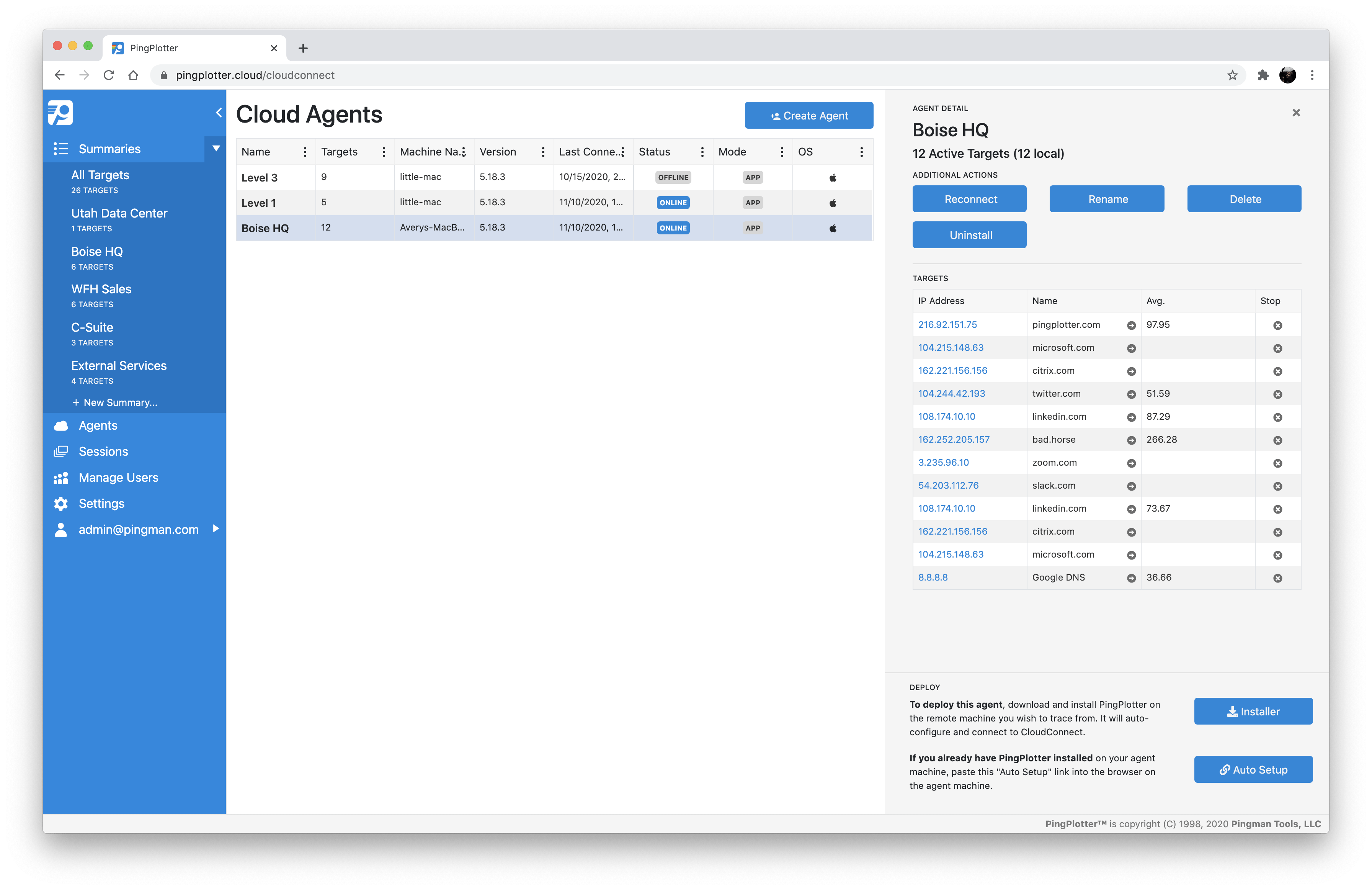 And when we say fast, we mean fast. We've seen new users go from their first login to active network testing in less than 10 minutes! For most deployments, you can have agents up and running across your entire company in a single day.
Setup doesn't get much easier than that.
A fantastic user experience
Getting set up is one thing — getting things done is another.
Thankfully, using PingPlotter Cloud is a breeze. PingPlotter captures all the critical diagnostics you need on a single screen: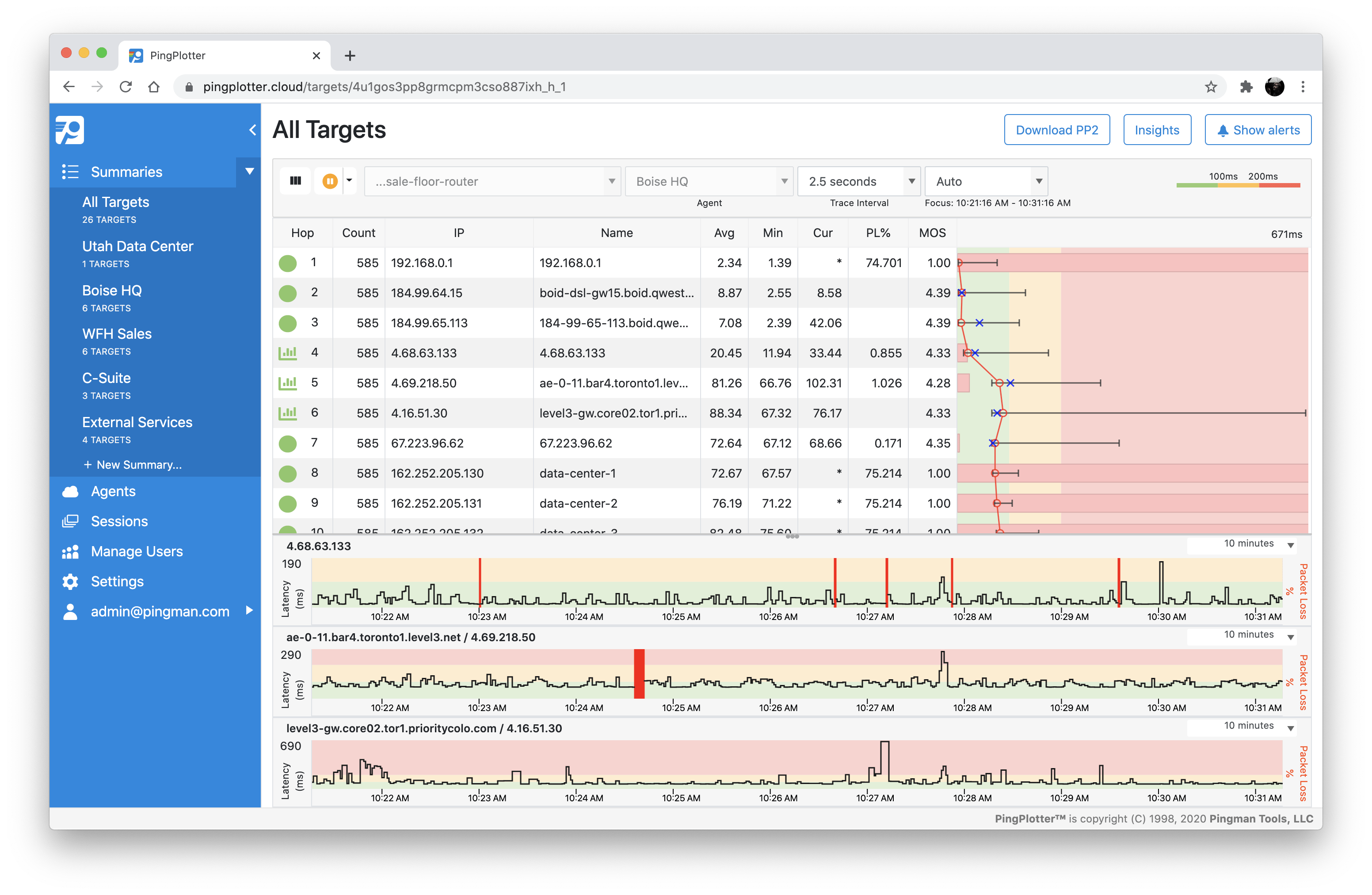 Metrics like latency and packet loss appear for every hop between the agent device and the endpoint you choose (such as a SaaS app server). There's even a helpful visualization of the route status to help you see how things are doing at a glance.
While seeing the current network status is essential, having access to the history of a network's performance is critical for finding chronic issues.
Problems like bandwidth saturation and network congestion require seeing network performance over time, and PingPlotter Cloud's timeline graphs excel at providing a dense yet easy-to-read view of your test data over minutes, hours, or days. You can directly compare hops to see where congestion impacts performance or scan endpoint data to see if time-of-day is factoring into issues.
On the subject of time, Cloud tests networks faster than other RMM solutions — like, 20-times-a-minute faster.
So many network problems live in the margins of the 60-second polling rates of other solutions. Cloud gives you important details other tools can't see, helping you find the issue instead of just giving you a thumbs-up or thumbs-down.
Better collaboration
PingPlotter Cloud is all about collaboration, be it for you and your IT department or for you and the people you support.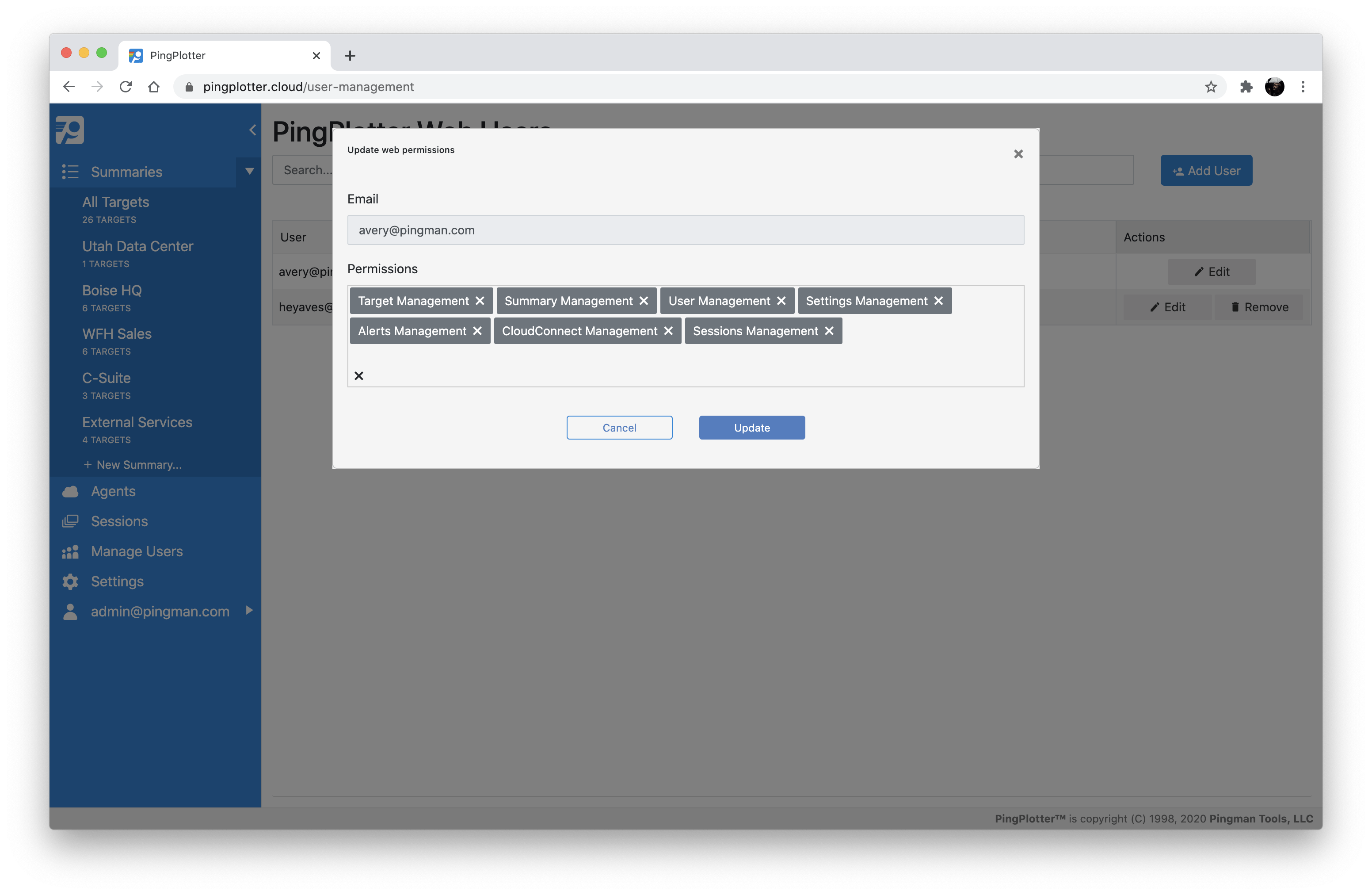 We built Cloud with teams in mind. Adding new users and setting access permissions is a snap. There aren't license keys to manage or add-ons to purchase. Admins can create new accounts in seconds and make changes all from within Cloud itself.
And then there's LiveShare, Cloud's amazing data-sharing feature.
LiveShare lets you share live, view-only PingPlotter results with your teammates, clients, boss, or anyone else with whom you need to collaborate.
Each LiveShare page has a unique URL you can share or manage from within Cloud. Whenever you need to show a colleague why their Zoom call is hitching up, you can give them a LiveShare link and talk them through the problem. You can also create persistent LiveShare links for specific users, giving them something to check before sending in a support ticket.
There are even more fantastic collaboration tools in PingPlotter Cloud, so schedule a quick 15-minute call with us to learn more.
Service that makes sense
Of all the things that set PingPlotter Cloud apart, it's the straightforward service packages that put you — the user — first.
For so many businesses, the massive network solutions out there just don't fit the shape of today's problems. Sure, having the power to keep an entire data center up and running is nice, but what you really need right now is a way to prove your boss's WiFi is causing his connection to hitch up.
Cloud's service packages don't put limits on users, devices, or data. Instead, Cloud focuses on the active tests you have running at any given time. This gives you the flexibility to go wide with break/fix-style troubleshooting for several devices or be proactive with high-value users by monitoring critical apps and services 24/7.
There's also no drawn-out sales process, either. You can get started with PingPlotter Cloud right away. However, our Sales Team is more than excited to help answer questions, walk you through Cloud's best features, and help you find the service package that matches your needs.
Of course, every Cloud package comes with priority support and a 30-day money-back guarantee, so you can feel confident we have your success as our number one focus.
Your Cloud awaits!
Whether you need to find proof of a network problem or monitor connections from anywhere, PingPlotter Cloud has the tools to make it fast, simple, and painless.
There's so much that makes PingPlotter Cloud a fantastic tool for supporting remote workers. You can get a closer look at everything Cloud can do to make home support easier by requesting a free trial. We can learn more about the specific issues you're facing and show you exactly how Cloud can help.
We couldn't be more thrilled to have PingPlotter Cloud available for everyone to experience, and we can't wait for it to be the next great tool on your belt.
---
Do you support remote workers?
When remote workforces have connection trouble PingPlotter Cloud helps you find the problem and get everyone back online fast.
Start a Trial